WELCOME TO MINDFULNESS PAINTINGS!
Be where you are, not where you think you should be. – Unknown
Mindfulness Paintings communicates the transformative power of art and releases the spiritual power of painting to others: its power to give us peace, reveal God's presence in our daily lives, and make us more mindful on our journey. Explore this site with the guidance of mindfulness painter Alisa E. Clark. Alisa will give you suggestions to help you examine your painting process. This site will give you activities to help open your eyes to your own personal expression of creative mindfulness. Here you can delve into the artistic process and see its role as a form of meditation. Experience painting's capacity to make you fully present in the moment. Join in on a journey where you can make mindfulness art and discover creative mindfulness techniques. Do it all here at www.MindfulnessPaintings.com.
Choose the Mindfulness Paintings Blog, try the activities, check out Alisa's Gallery and Exhibits, or explore Alisa's adult and children's books to learn more about Mindfulness Paintings. Contact Alisa, using the "Contact" tab on the menu, if you have something to share or have questions about Mindfulness Paintings.
Creative Mindfulness Brings Peace and Hope
Be Mindful of Your Past as You Consider the Present
My mother had charisma, unique tastes, and a sophisticated, Victorian flare. She'd love this lamp and the ways it shows that I have inherited her creative spirit. It would have been front and center in our home. She would have told everyone how beautiful it was. I sense how proud she is of me. I am also mindful of how the past shapes my experiences in the present. I see how my creative process is influenced by my experiences. Creating art is an opportunity for me to notice things and then express new awareness in tangible forms. Painting and creating gives my story a voice and gives me a better understanding of my role within my story. I am transformed by the spiritual power of painting. I examine my process and find new avenues for personal expression. Creating is, for me, like meditation. My mind is often quiet. Sometimes, my mind drifts: gently noticing and wondering about my world. In this space, I am often fully present, and I realize that I am more peaceful in artmaking than anywhere else. This video invites you to journey with me as I reflect on my recent, mindful artmaking. What will we notice? How will our discoveries lead us towards greater mindfulness?
Read a Book About Mindfulness Paintings!
Mindfulness Paintings is a book full of creative meditation exercises, artwork, and art activities that will help you embrace the present moment. You will find suggestions for noticing and accepting your thoughts and feelings through creative techniques. Mindfulness Paintings will help you become more aware of how your body and mind are connected as you try some calming art experiences. An artist's voice will lead you to notice and observe your own thoughts without judgement or distraction. You will develop more compassion for yourself and others as you quiet your mind and make something new. With each line, stroke, color, and shape you make, you just might pay attention to things you have not noticed before. You will have the opportunity to feel new joy and peace as you hear the voice of your artist at work, as you play with art making tools, and as you try some simple mindfulness art techniques and exercises. Open this book, pick up your paintbrush, and allow your journey into the present moment begin!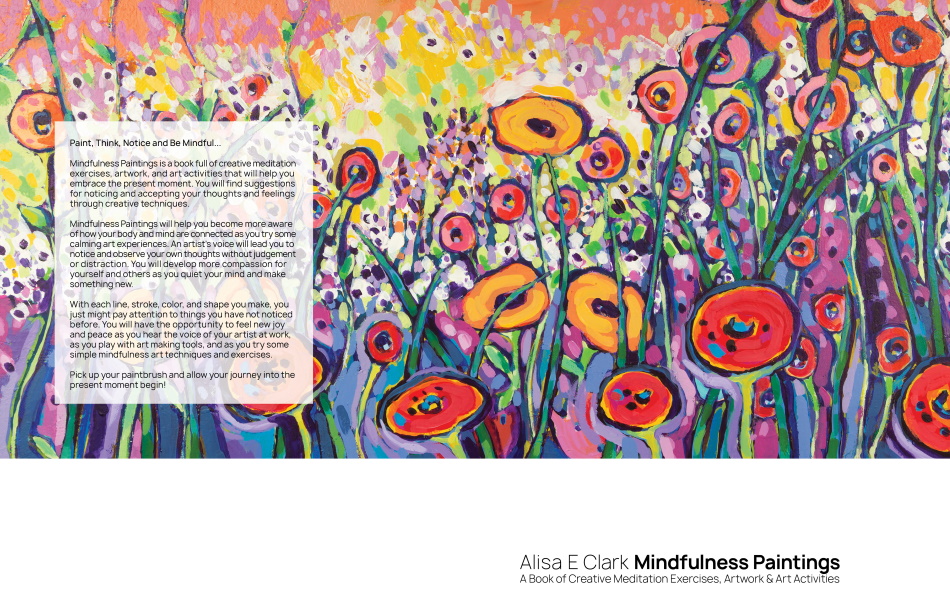 Creative Process Captured with a Paintbrush and a Piano
Composer and Pianist, Margin Alexander, interprets Alisa E. Clark's painting, "Funny Little Birds" with "harmonies of birds singing" on his piano keys. These birds are, in his words, "sometimes pleasant and sometimes strange." The combination of image and sound takes the participant on a strange voyage where time is elusive and curious. View this performance to see Margin play an interpretation of Alisa's work through passionate and thoughtful musical expressions. With eyes and ears, the participant will "soak in" a combination of artforms that heighten sensory experience and ignite a mindful awareness of beauty. This fine blend of creative processes evokes deep emotion and reveals the power of different art forms to move the soul, transcend time, conjure hope, and tell a moving story.
Alisa Taking a Moment to Be Mindful!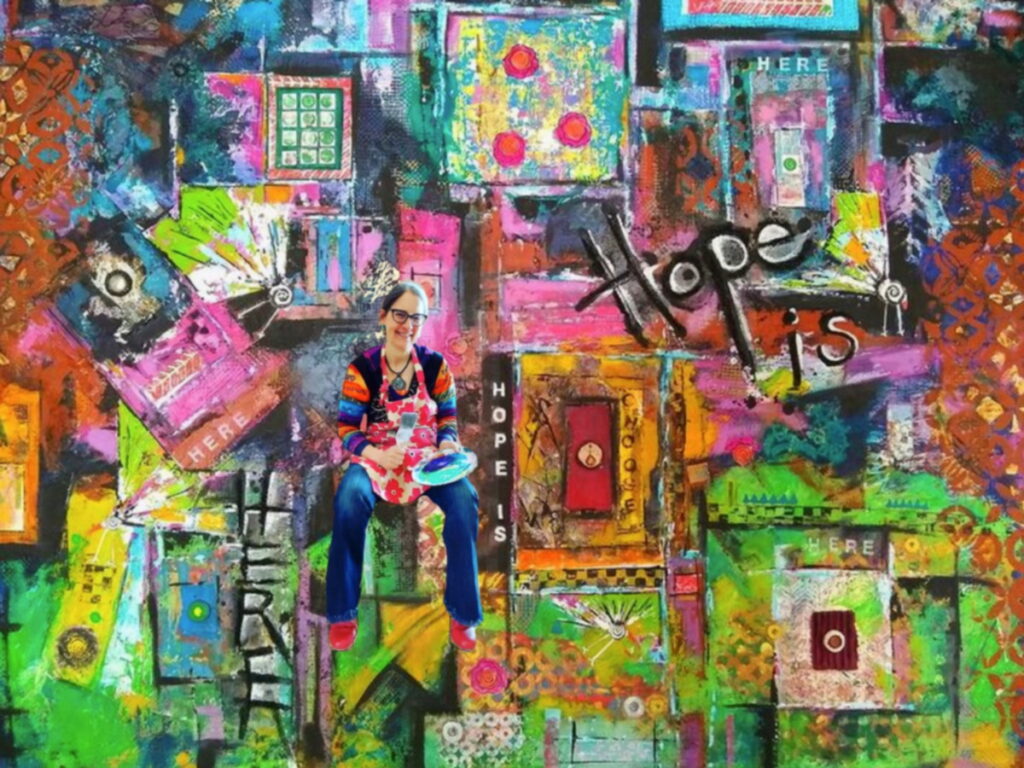 Mindful Painting Discoveries!
Mindfulness has given Alisa new insight into the creative process and the ways it helps us, shapes us, and brings us peace. Alisa has recently begun sharing her art along with reflections that explore liminality's influence upon it. Her liminal spaces are seen through the lens of a mindful art maker. The spaces are then painted and described with an artistic eye. A deeper understanding of the time we spend between "What Has Already Happened" and "What's Coming Next" is found through Alisa's art making process. From within the creative flow, in-between moments are captured with a paintbrush and an artist's voice.  A better understanding of our "In-Betweens," and ways art can give us hope in those places no matter how hard our present places may seem, waits inside Alisa's most recent book:
Alisa's Journey Before Mindfulness Paintings!
Alisa has been long delving into her creative process and discovering its meditative benefits. We now describe these benefits with words like "meditation" and "mindfulness" or "creative flow." Alisa began describing that "mindful creative flow" through the writing of her own spiritual autobiography. Using words and art, she found voice for peace, hope, and awareness of God's constant presence in her daily life. This all helped her spiritual memoir, Dancing in the Doghouse, take form. Alisa now seeks ways to share this mindful, spiritual journey and its many meditative and healing benefits. Alisa trusts that by sharing the creative ways she faced the challenges of her own journey, she will be able to help others and encourage them. She hopes they will explore the benefits of "creative flow" and find a creative way to be more mindful and present through art making, writing, and story sharing. Alisa's spiritual autobiography,  Dancing in the Doghouse: Sharing God's Presence in Everyday Places, invites people to join her on this exciting journey towards being more present, peaceful and aware. Whether this happens with a pen, a piece of paper, a canvas, or a paintbrush does not matter to Alisa. She only hopes others will find their creative voice and explore its spiritual benefits. Alisa shares with the hope of igniting a journey for others: a journey to understand and share their spiritual stories.