RECENT MINDFULNESS PAINTINGS
Recent mindfulness paintings by Alisa E. Clark, and the creative process that inspired them, can be found on this page. Each "canvas" was painted with an awareness of the present moment and the acceptance of what was noticed in the "Right Now." Paintings include thoughts on the artist's mindfulness painting process. 
Be where you are; otherwise you will miss your life. -Buddah
Mindful of My Journey: An Altered Book
I painted through my journey. I have included Yesterday, Right Now, and Tomorrow all at once. This piece spins and the flaps and doors open and close. This lets the viewer move through space, time, and place. Working in 3D creates an awareness of time shifting and changing: a liminal experience. Working in 3D also allowed me to uncover themes in my story. A journal is wonderful for exploring our journey, but we can step outside the box and share our story in other ways. "My Journey: An Altered Book" is a 3D journal. What creative, mindful ways can you share your journey?
Mindful of My Earliest Creative Influences
"Childhood" is an experimental piece about early artistic process influences: macrame, beads, macaroni, yarn, pipe cleaners, crayons, buttons, childlike colors, pom poms, found objects, and fascinatingly colorful teething ring keys. I am mindful of how "Childhood" grasps my earliest, primal creative experiences.
Some might say that I have put my hopes in the wrong thing. How can creative process be my stabilizing force? It is through creative process that my spirituality speaks. Some meditate. Some pray. Some journal. Some study. I do these things, too. When I create, all I have put my hope in speaks. Art is not my God. Art is how I experience God. I have not turned my back on who I have always put my hope in. My spiritual experience is rooted in the constant, never ending voice I hear inside my heart and mind. God is still speaking. Jesus still guides me. What I hear spills forth on my canvas. What I hear is the beautiful moments, so I grab and paint them. In this painting, I see the beauty of the tomatoes in my father's garden. I see the beauty in the way they ripened on the windowsill. I see the beauty in how my dad and I would share a glass of wine and enjoy simple things like wine and tomatoes. This is what I am mindful of in the present moment.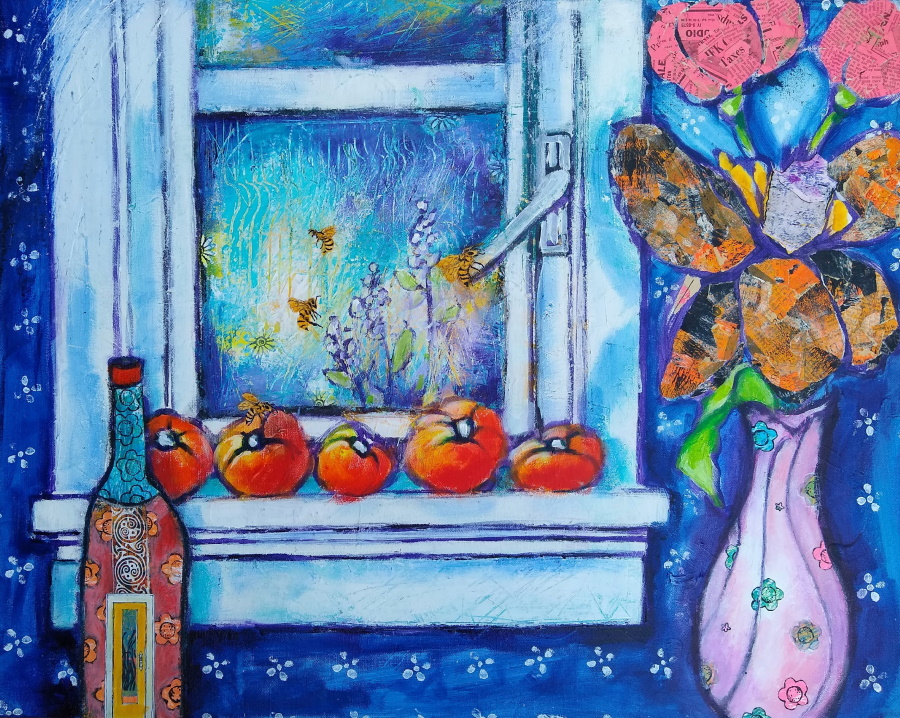 Creative Process is My Lynchpin
What brings you pleasure and escape? Some run. Some drink. Some sleep. Some read. The list goes on. Our choices might bring temporary respite, but in many cases the pleasure and escape is short lived. Our choices might also be the lynchpin that holds us together. My lynchpin is my creative process. Its benefits are long lasting, and it gives me both pleasure and escape. Just a couple of hours painting gives me the energy to face whatever is next. When my mother died, I painted my way through the sad moments and eventually my process brought me to a place of joy. I am regularly mindful of how my artistic process gives me clarity, peace, and a positive frame of mind.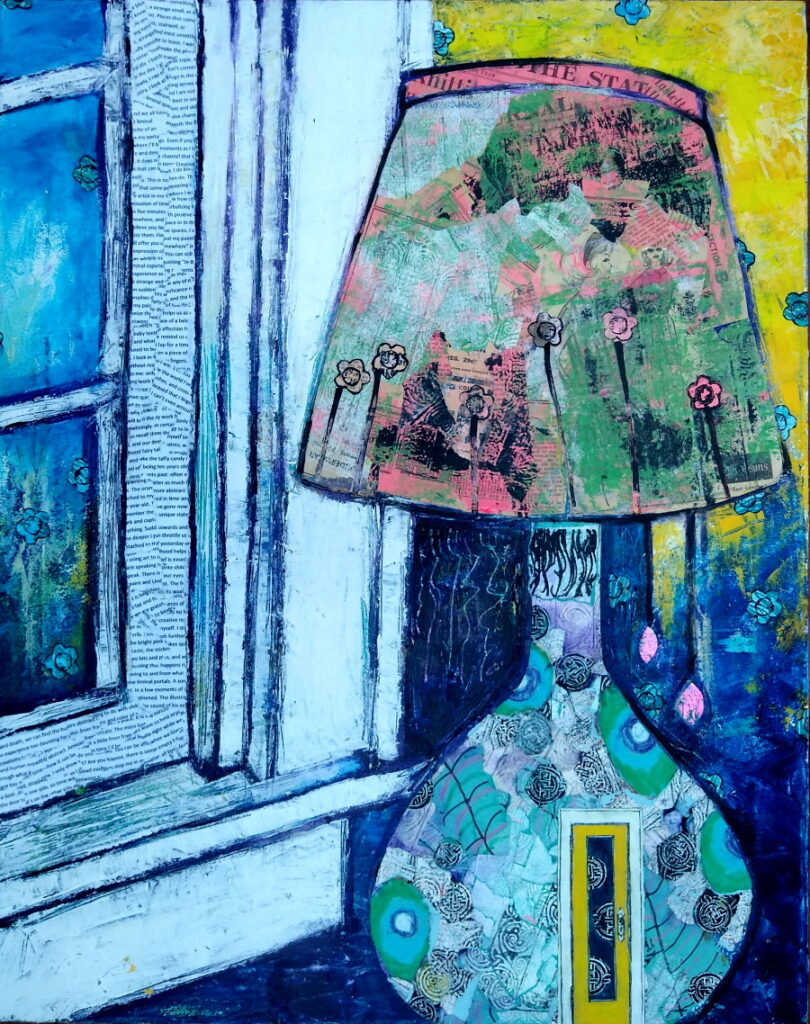 I have pictures and videos of every nook and cranny of my childhood home. Now, I paint it all. At first, I was beside myself about this house becoming someone else's. I felt like I was losing and old friend forever. Recently, I've thought, "I have a way to keep this old friend with me: through my paintings. My creative process eases the angst I would otherwise feel about this event that marks the passing of time. It is a true friend on my journey.
My dreams about what once was are on a canvas. When I think about Heaven now, I don't just imagine seeing my loved ones lost. I imagine seeing them within the places we lived life together. Until the day comes when I go back to it all, I paint it. I am aware that I am mourning loss and making sense of grief. Mindfulness painting gives me a creative process for sorting out the present moment with more understanding, peace, and acceptance.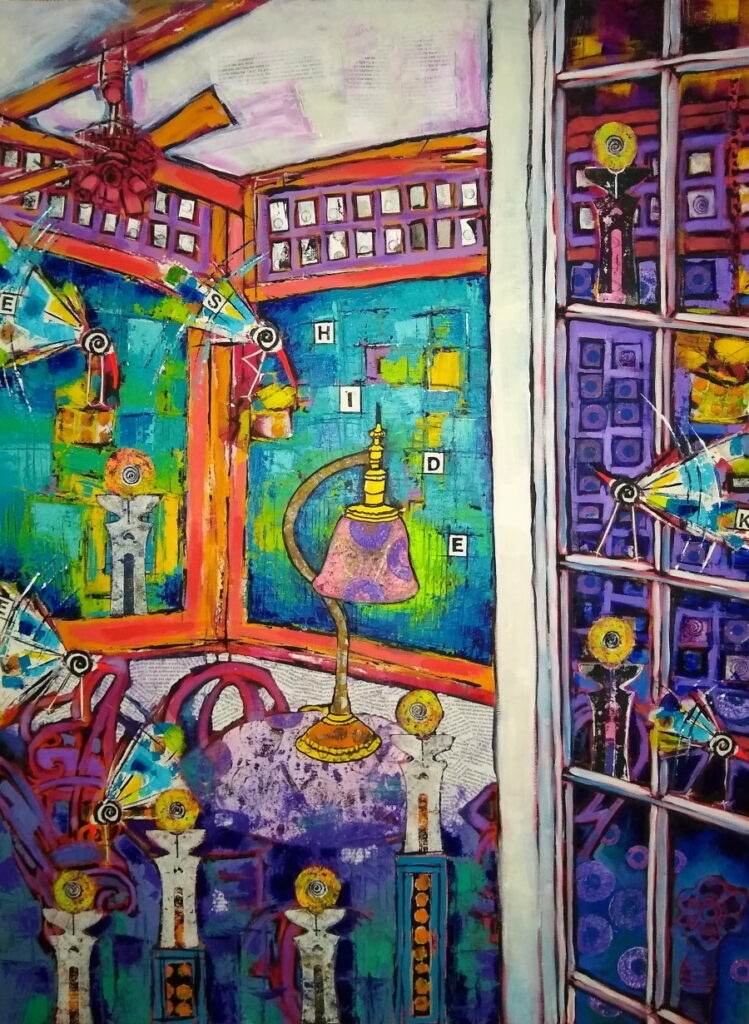 Go Back, Move Forward, 2020
The painting, below, is titled "Paradise Lost." "Paradise Lost" is now finished: literally and metaphorically. I am moving on to new days which, I am trusting, will be full of new pieces of paradise. The journey does not always take me where I want to go but, as I look back, I can see that the road I traveled was paved with unexpected wisdom. This painting captures a moment on my journey that feels pivotal. I have been doing much emotional work to be ready for it. Yesterday, I didn't feel prepared. Today, I am ready. Time is wise and gives me what I need for tomorrow. These are the realities of my present moment. Mindfulness painting helped me arrive at this awareness: this noticing of what's true about right now. My creative process is irreplaceable if I am going to continue to move forward with wisdom and understanding of myself.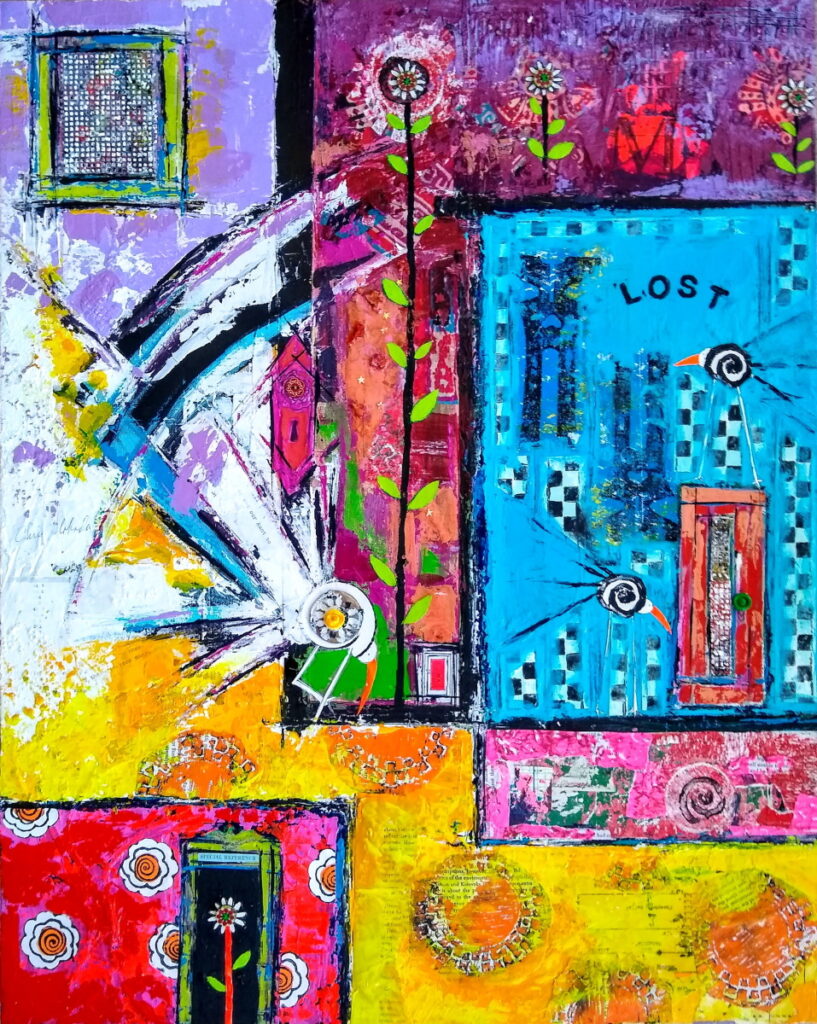 Painting from the Space Between
Over and over, I paint this space because it is loaded with significance. My art making is very much about reconnecting with all the things that happened in this space, and it's deeply meaningful for me. I am in spiritual limbo: painting the "Space Between" what once was and now is. I am floating in the middle of everything that matters in the present moment.
Floating in the "Space Between" is where I choose to be right now. I need to spend time here. I'm not stuck in a way that's unhealthy. What's so wrong about going back in time and visiting a place that you're happy to be in? If my paintings let me do that, I've just taken a little journey and I'll be back to the present soon enough! I am mindful of where I am going, and I make my own choices. My canvas helps me reconnect, find meaning, and accept the realities of the present moment.