Sharing my mindfulness paintings is as satisfying as creating them. It is so exciting to share my process with others. It is also an honor to encourage others to embrace their own process over their product. Don't look at what I've made. Look at why I made it. What did I notice, think about or meditate on? What was I mindful of? These are the questions I hope you will ponder as you visit my exhibits.
Be happy in the moment. That is enough. – Mother Teresa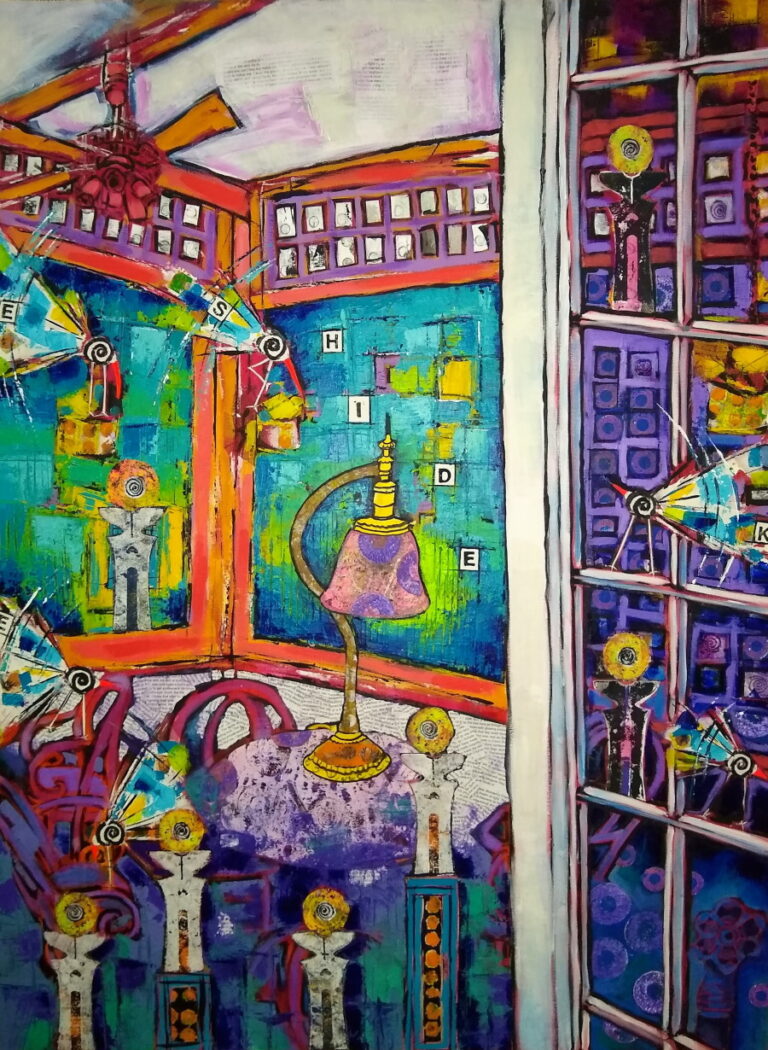 Go Back, Move Forward, 2020
Mission Point Resort, Mackinac Island, MI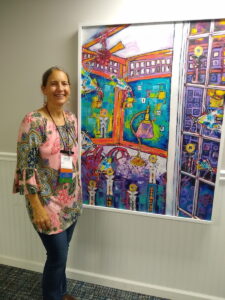 Exhibit Opens on September 3rd, 2021
Edward A. Dixon Gallery Juried Exhibition, 2021
I paint what fascinates me. I explore memories. I find joy in the present moment. I paint it as I see it. It all makes my "Right Now" a good place to be.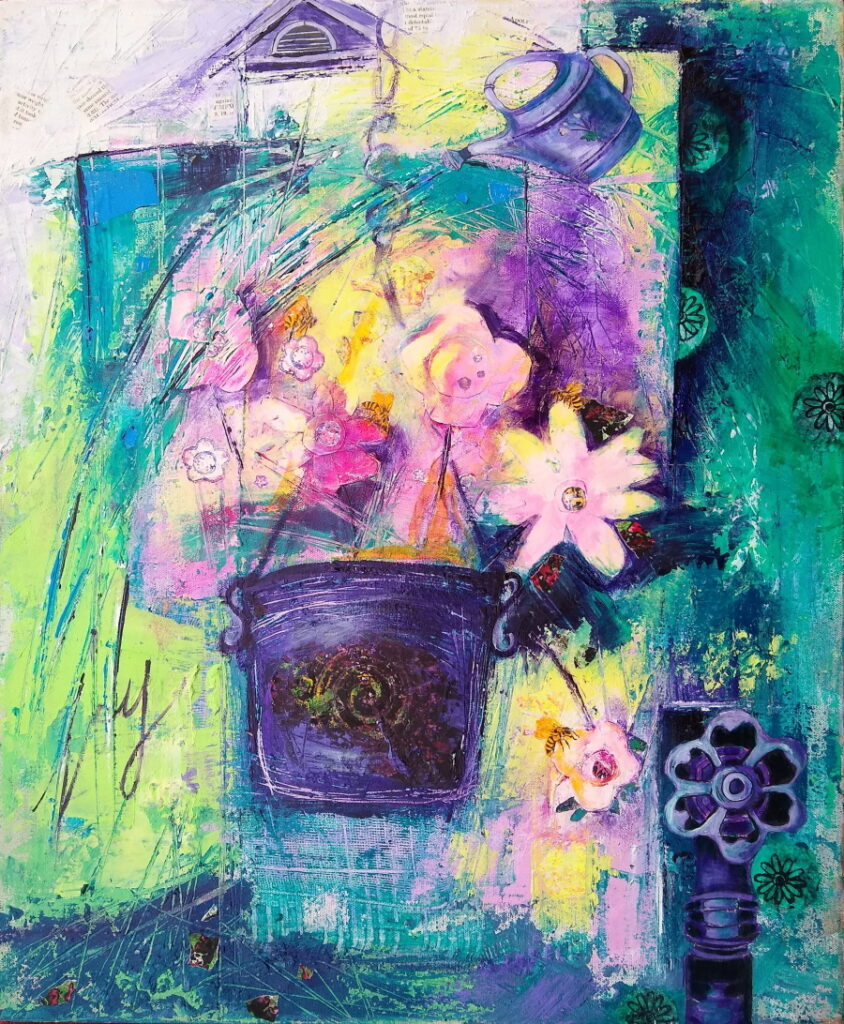 SHCA 2020 Artist and Artisan Holiday Gallery
"My dad planted hundreds of little pine trees in his passion to preserve beauty. These trees are now happy little reminders of Dad now that he's gone. Every little pine tree I see washes me with a little comfort and joy."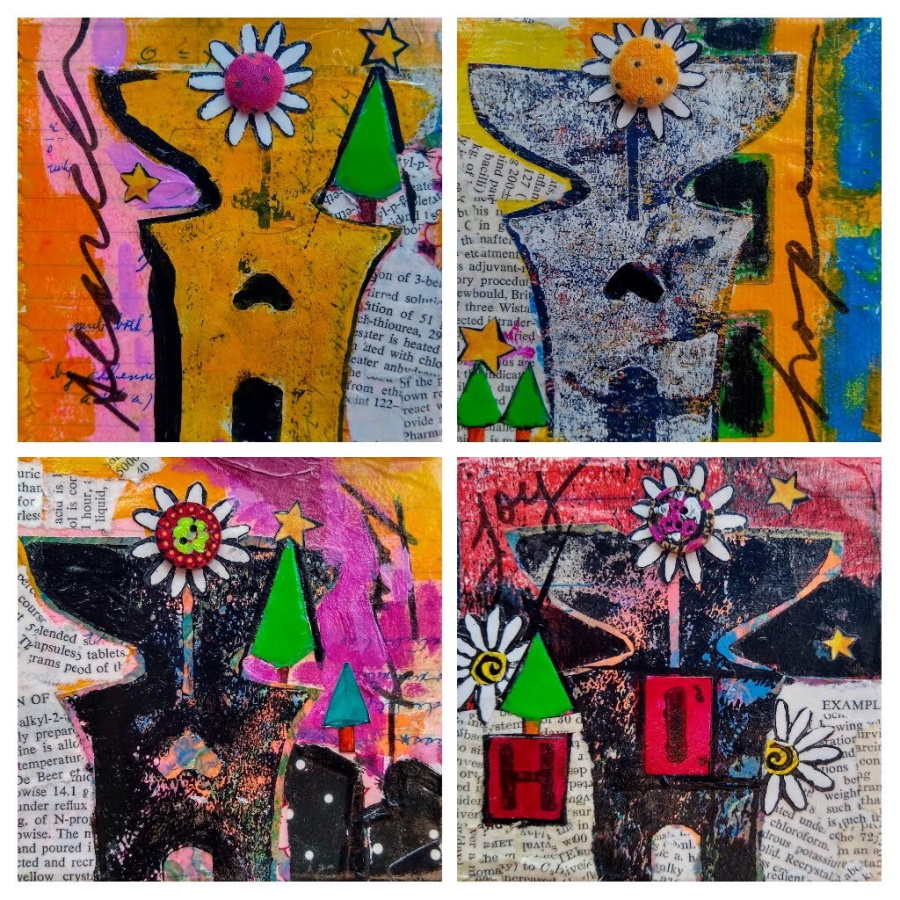 Collection of Small Works by Alisa E. Clark, 2020
Fantastical Flora and Fauna Regional Juried Exhibition, 2020
This space is loaded with significance. It teems with things that are deeply meaningful for me. I paint the "Space Between" what once was and now is. My studio is now full of odds and ends that I cut, glue, mix with paint, and apply to a canvas. What springs forth is my garden full of memories.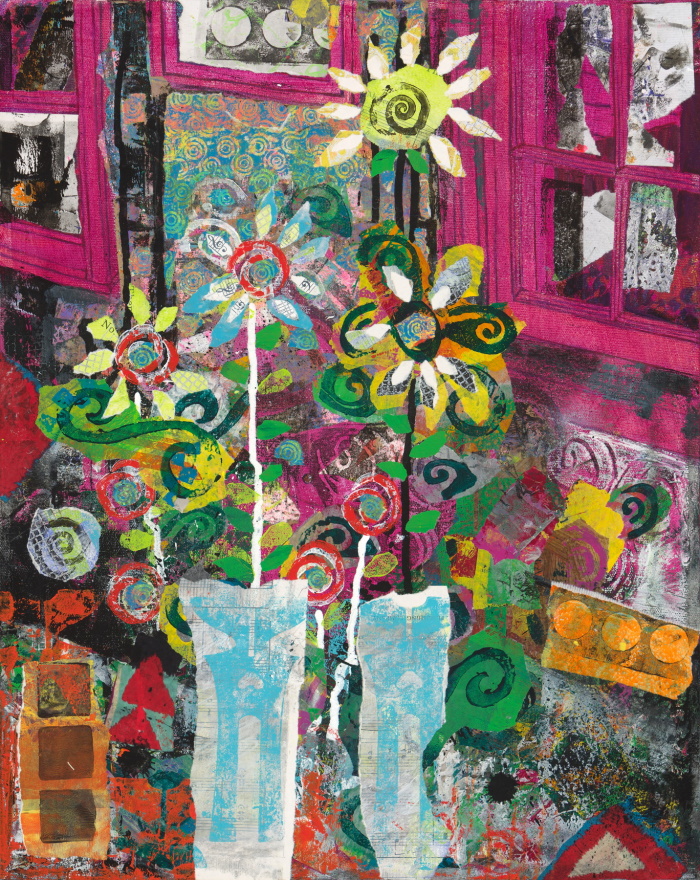 South Haven, MI, Regional Juried Exhibition Finalist
South Haven Center for the Arts
The Color of Music Art Exhibit, 2020
I make art, and I do my best to do it my way: honestly. The more I create, the more I know my song.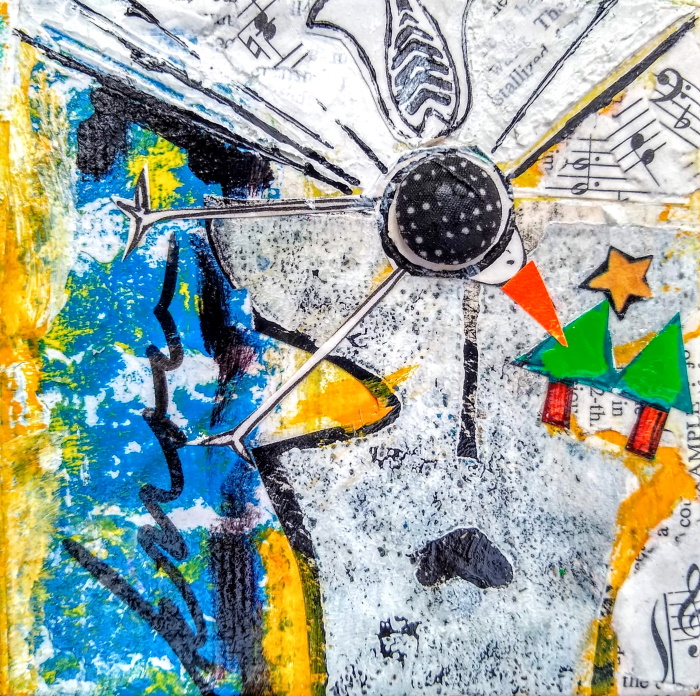 A show of works from across the country no larger than 10 inches in any direction.
d'Art Center National Competition, 2020
I want people to see a universe inside this painting: a universe where everyone is called to display their uniqueness and diversity. I want you to see a world where a person's honest attempt at authenticity is held high: a place for everyone everywhere. Look. See what I see.
Norfolk, VA, National Finalist
Theme: Mental Health Awareness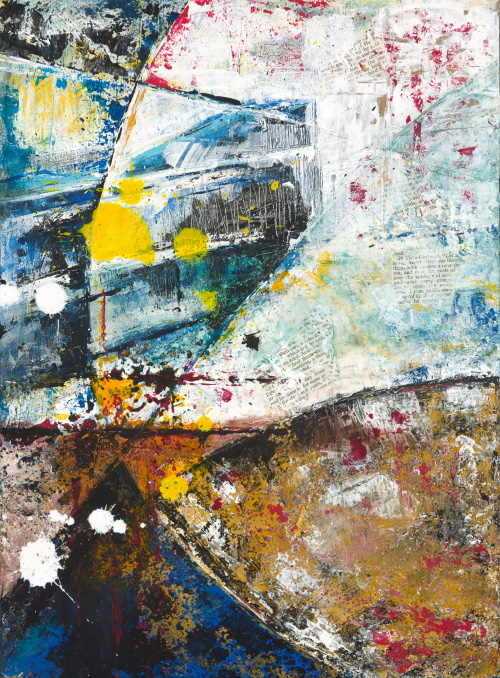 Everyone, 2020
Exhibition Closed
39th Annual Michigan Fine Arts Competition
As we all wait for what's next, the present moment is causing us all anxiety and grief. We can't even trust in simple necessities as we once did. Despite today's realities, I have a canvas that speaks something unexpected and surprising. I have one place where hope can say, "Hello."
39th Annual Michigan Fine Arts Competition: Finalist, 2020
(Birmingham Bloomfield Arts Center, Birmingham, MI)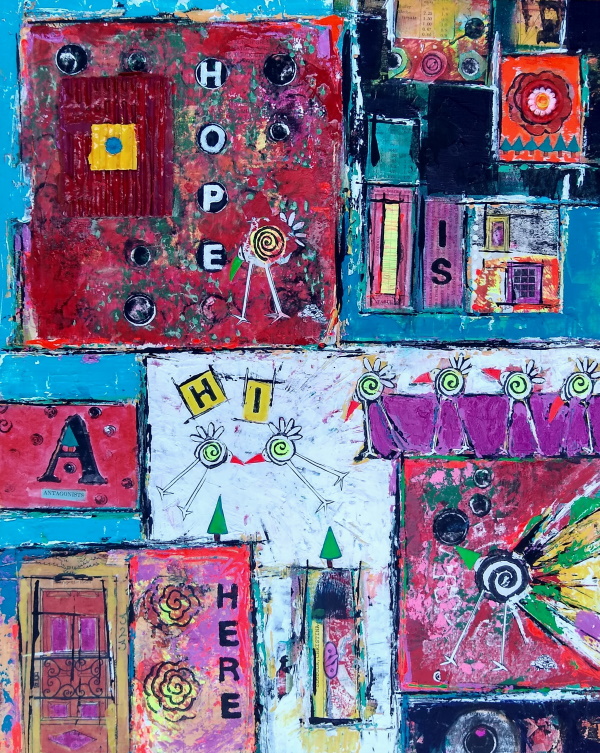 Small Works National Juried Exhibition
323 Buena Vista, NY is about a door and the people who have entered it. Painting it helps me in my process of accepting—accepting that I won't be able to use this door for very much longer. I paint to continue turning the knob of this door, and the knobs of the doors beyond this door, so I can see what was once on the other side. I am stuck here, so I paint it over and over and over again, so I can find my way back.
Portals- Small Works National Juried Exhibition: National Finalist, 2020
(Alex Ferrone Gallery, Cutchogue, NY)
323 Buena Vista, NY, 2019
Yale School of Divinity Reflections Magazine Cover Art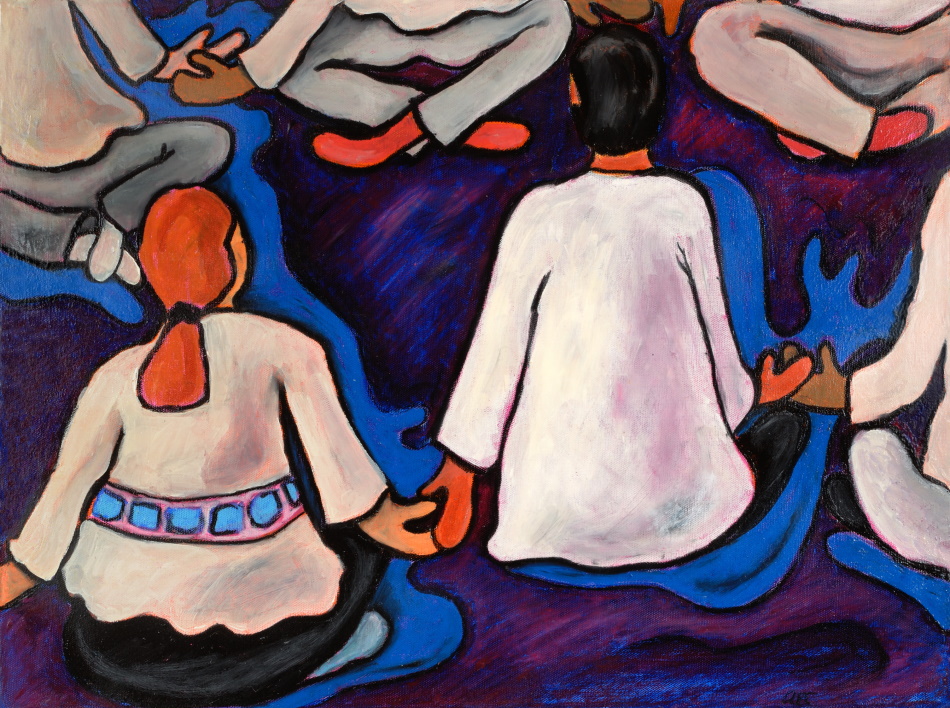 ECVA Exhibition: Universal Christ
This piece began as an attempt to illustrate a vision I once had. In it, Jesus showed me that despite all the voices (the voices inside my head and the voices spoken by others), I was good enough. In the vision, Jesus took me out into the water. In this moment I understood the vision was symbolic of cleansing through water and Christ's shed blood. Jesus pushed me down under the water. I didn't resist, because I trusted Him even though I was afraid. When I came up out of the water, I was on the other side: I was in Heaven. It was immeasurable peace to be in a place where no one judged me including myself.
I failed in all my efforts to capture the details of this vision in this painting. Instead, all you see is the water and the blood Jesus used to show me that I am not the voices I hear. This makes me think about all the judgements we make about people: whether what they believe is right or wrong and whether what they do is right or wrong. This vision I had was a real thing. It was Jesus Christ communicating with me. It really happened and it came with a message. I can still hear His voice saying, "I made you and you are mine. You are "right" no matter what anyone else says or what you believe about yourself. All this judgement and criticism the world is speaking has nothing to do with Me. I am the God of the universe and I am your God. Despite what anyone says, I made you and you are good. I say you are "right" and I don't make mistakes."
If Jesus says that I am NOT the voices I hear, then this is also true for others. If He says he doesn't make mistakes, then the way he made me and you is "right." Our beautiful variety, that the world so often tries to squelch, is good. The God of the universe made all of us and we are washed daily in His water and blood. My painting isn't meant to speak of freedom to do wrong. We were not made to hurt others or ourselves. Instead, I meant it to speak of the freedom that we have in Christ to reflect our uniqueness. We are as unique as every possible color an artist could mix on their pallet: endless possibilities. We represent the vastness of God's vastness. It's why we are different in how we look, how we think and how we choose to live our lives. In our uniqueness we represent Him well. We are part of His universe and He is our Christ.
Visit Alisa's ECVA Entry for This Exhibit: https://ecva.org/exhibition/universal-christ/exhibit29-aclark.html
Visit the Full ECVA (Episcopal Church and Visual https://ecva.org/exhibition/universal-christ/index.html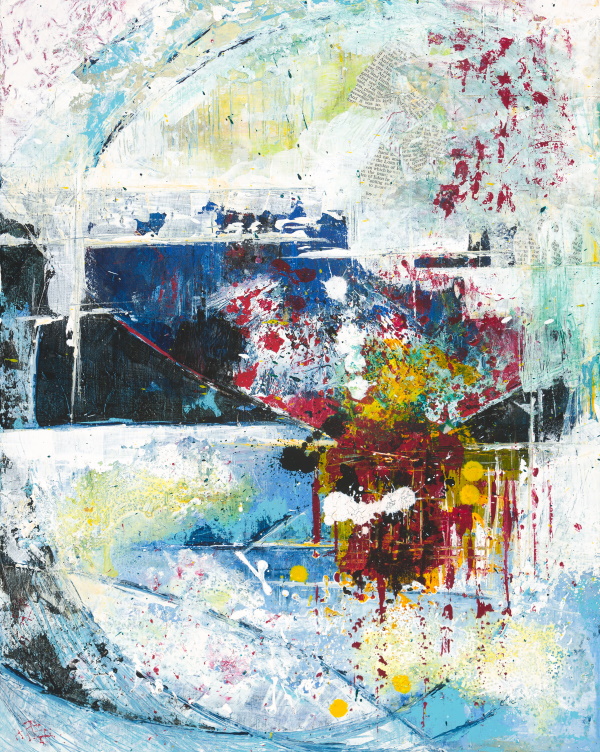 Part of His Universe, 2019
ECVA Exhibition on Worship
Artist's Statement: Greek by descent and Greek Orthodox by baptism, I learned early on that Mary has special power. In the Orthodox Church, Mary is given the title "Theotokos" which is Greek for "Birth-giver-of-God." That phrase in itself is power packed. I was spiritually educated in Catholic schools, where I spoke the words "blessed art thou among women" enough times to continue believing in the holy power of Mary's blessedness. My early fascination with her has stuck. I am enraptured by the idea that Mary carried God incarnate inside her womb. I like to think that this supplied enough holy power to ignite a spiritual fire inside her. I painted "Mary on Fire" with the same wonderment I had as a child. She's not God but she birthed Him. How could she not glow from the inside out? I believe she was ablaze and that's why, and how, I paint her.
Visit Alisa's ECVA Entry for This Exhibit: https://ecva.org/exhibition/worship/exhibit14-AClark.html
Visit the Full ECVA (Episcopal Church and Visual https://ecva.org/exhibition/worship/index.html
ECVA Exhibit on Suffering
Artist Statement: I am uncomfortable about what my dad did as a scientist. He was a good man. He was a loving father. He made personal sacrifices to help others. However, he brought living things suffering. What if the price of his research was more than a rat? Maybe there were monkeys suffering in one of his labs, but I just didn't see them on Take Your Child to Work Day? Does this make a difference? Where do we draw the line? What my dad and other scientists did came with a price, and we didn't pay it.
In fact, we don't suffer as much because of it. Would I want a person with rheumatoid arthritis to give up their pain relievers so fish, mice, rats and monkeys don't have to pay the price? I'm not sure what God would want, but I know that I keep taking ibuprofen when I need it. When my child is in pain, I offer it to them. This is why we don't suffer and I reticently admit that I am grateful. I use my paintbrush to capture it all: both the good and the bad. I accept the tension and I share it on my canvas.
Visit Alisa's ECVA Entry for This Exhibit: http://ecva.org/exhibition/Suffering/exhibit68-AClark.html
Visit the Full ECVA (Episcopal Church and Visual Arts) Exhibit: http://ecva.org/exhibition/Suffering/index.html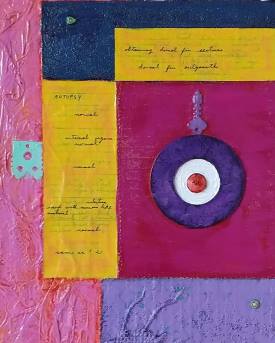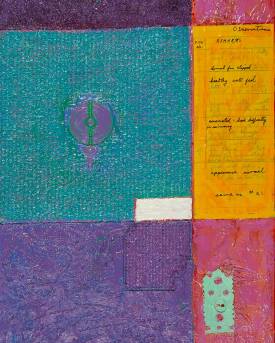 Why We Don't Suffer, 2019
ECVA Exhibit on Telling God Stories
Artist's Statement: I'm revisiting this piece of art because my childhood home is up for sale. In a few months I can go back to 323 Buena Vista Road through art I've made, but never again will I be able to visit my birthplace as it once was. That's why, even though this exhibit is from the ECVA Archives, it speaks to me today.
The collage elements inside this artwork belong to me. I did not use someone else's content to share on this canvas. I needed it to be this way. I needed every word and image to speak of my story. In the background are images from my past: art I made about my life and my experiences.
The images are all of things that matter deeply to me. In the foreground, you will see the wrought iron bed from my parents' bedroom. It now sits empty, but there were 60 years of them sleeping in it together. Only God can make that happen. My story is always about the way God is always in my story. Look and you will find Him. He is covering every inch of my canvas.
Visit Alisa's ECVA Entry for This Exhibit: http://ecva.org/exhibition/Telling_God_Stories/exhibit41-AC01.html
Visit the Full ECVA (Episcopal Church and Visual Arts) http://ecva.org/exhibition/Telling_God_Stories/index.html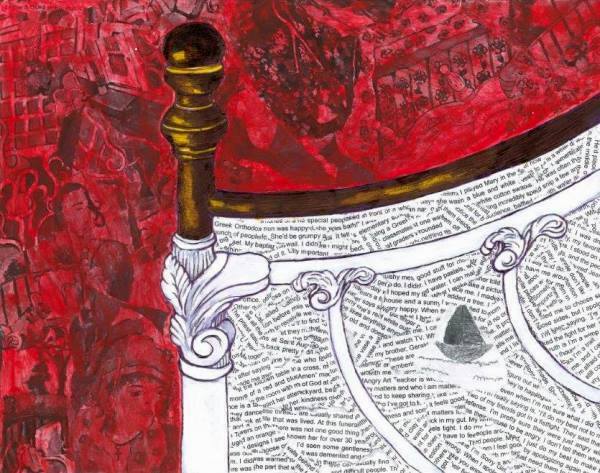 MEA Art Acquisitions Juried Exhibit
2013 (East Lansing, MI)
Small Matters of Great Importance
2000 (Edward Hopper House, Nyack, NY)
Snow Den Gallery
Works on Exhibit, 1998 (West Dover, VT)
Art in Bloom Juried Exhibition
1996 (Hopper House, Nyack, NY)
Hayloft Gallery
Works on Exhibit, 1996 (West Dover, VT)
30 Bond Street
Works on Exhibit, 1994-1995 (New York, NY)
Art on the Common Juried Exhibition
Honorable Mention, 1995 (Highland Mills, NY)