MINDFULNESS PAINTINGS ART GALLERY
Alisa's Mindfulness Paintings Gallery is a place where you can enjoy some mindfulness art. It's also a great place to reflect on your creative process and get inspiration for your own mindfulness painting journey. Keep yourself focused on the painting process by reading the Artist's Statements. Remember that mindfulness painting is all about the process not the product.
Happiness, not in another place but this place… not for another hour, but this hour. – Walt Whitman
Read the Artist's Statements!
Don't get bogged down in judging the art you find in this gallery. Don't compare your work to what you see here. Read the Artist's Statement that is underneath each painting. These words will help you hear the voice of a mindfulness painter at work. Listen and use what you notice to understand your own painting process.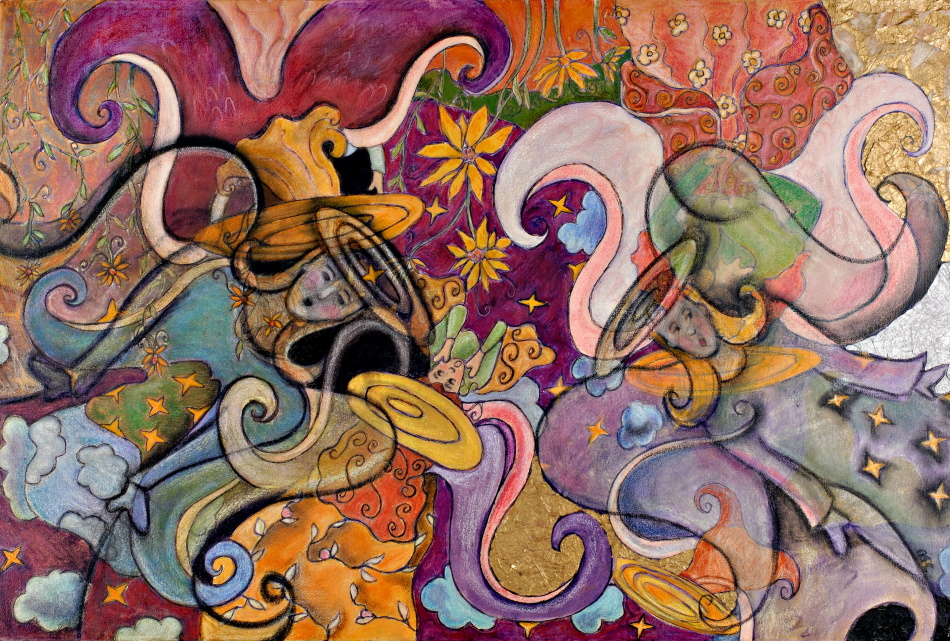 Being Mindful of Memories...
The paper flowers that wrap around this sculpture are meant to evoke a feeling of life bursting from the earth in spring. They are covered with a light dusting of snow which appears to be melting. This sculpture spins on its base and has a wind-up music box that plays the song "Edelweiss." This 3D creation purposefully evokes memories. I mindfully capture moments with my paintbrush and my imagination.
Be Mindful of Using Your Imagination
"Imagination" was sparked by an old roller skate and a vintage food press. The press looked like a pelican's beak, so a bird-like creature emerged. I added a pull string so "Imagination" could take a child-like journey. The piece is purposefully dream-like, fanciful, and otherworldly. As I create, I am mindful of my desire to remember my past in the present.
I create marks, choose colors, and make choices on a canvas. In an unreliable world, my canvas can be relied on. I still have a place where I can dream. As I paint, I hear the words "I am Hope" rise within me. I sense, against the odds, that hope is here. Title: I Am Hope, 2020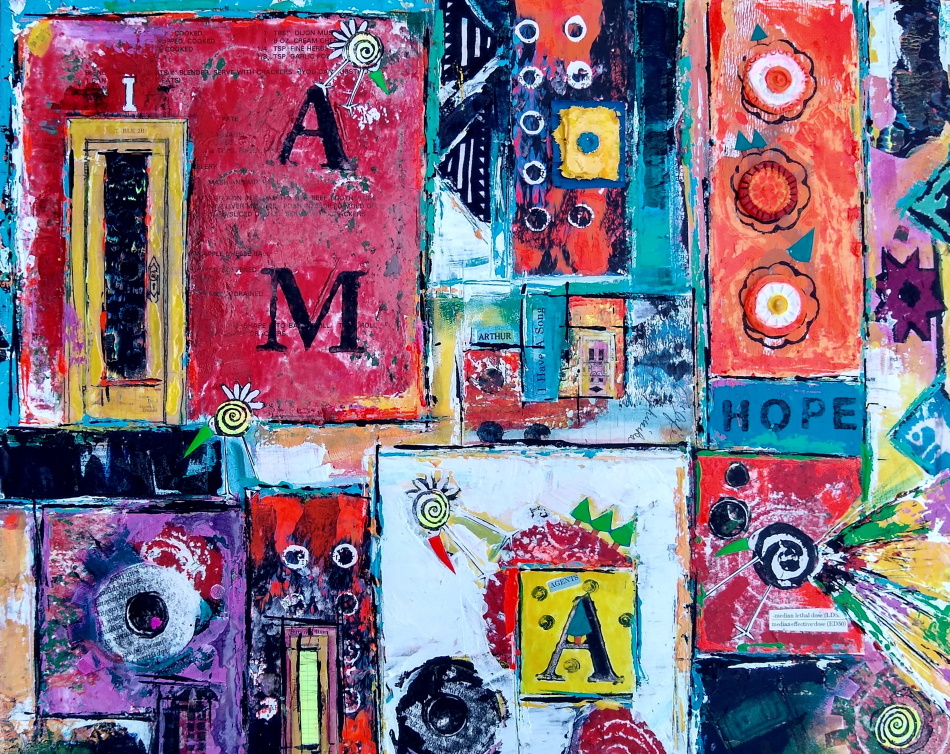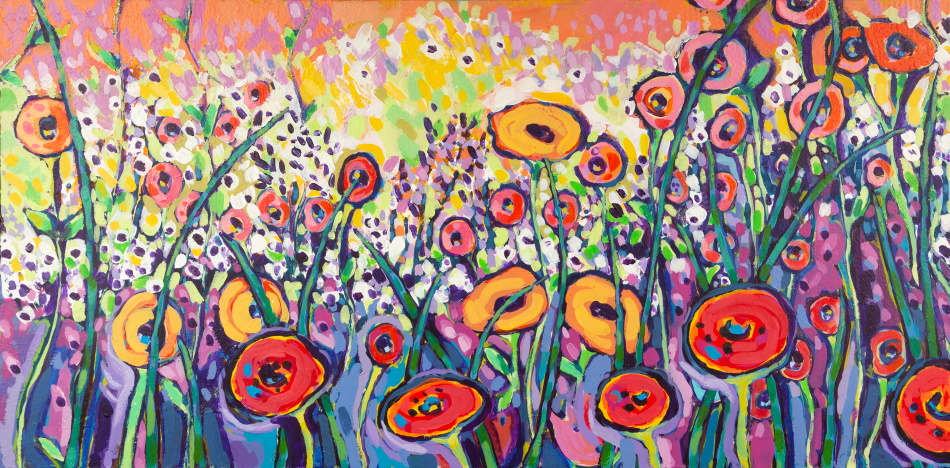 For someone whose mind is almost never quiet, it is profound that I have a quiet place. Give me some paint, and I am suddenly a person who can think about only one thing at a time. I don't stress or ruminate in this quiet place. Thoughts come and go. I sort things out. I notice feelings and I let myself feel without fear. I become gentle to myself. I settle down inside. It's no wonder that I keep coming back to paint. I choose some colors, textures, shapes, and objects, and I move them around on my canvas and I see. I see that they communicate the quiet I feel inside. I paint in this new quiet place. It's Ok.  Title: Orange Doughnut Flowers #1, 2018
Why I Ruined the Whole Thing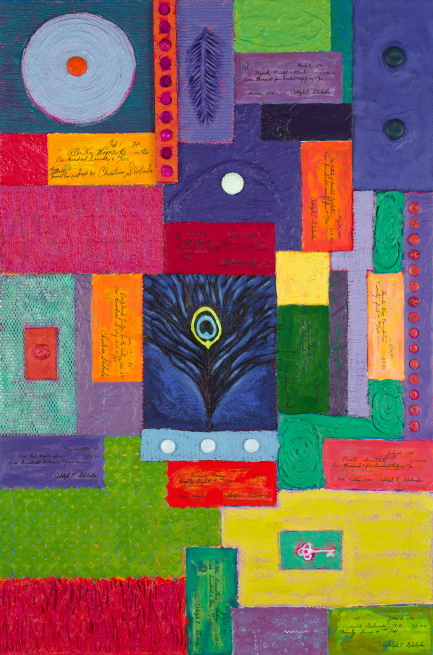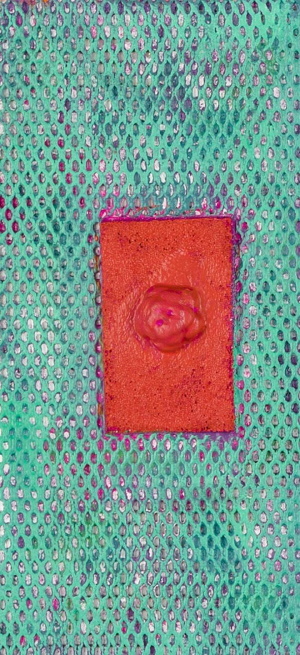 My meanderings might seem mindless, but I was mindful of my choices. On the next page you will see a painting that only a few people I know will understand. If you are from my family of origin, my mindless meanderings will hold great meaning for you. The checks I incorporated into the painting will make my sister want to both laugh and cry. Someone looking in on the outside might wonder why I ruined the whole thing with what looks like a bunch of strange choices. All I know is that the experience let me feel alive. I felt joy. I felt sorrow. I felt love. I even felt God right there with me as I made each and every choice. Consider not letting the voices of others get inside your head as you paint. Don't let those voices rob you of the chance to be drawn into a world of color that brings the incredible opportunity to be fully present. Hear only what comes from within you.
Greek by descent and Greek Orthodox by baptism, I learned early on that Mary has special power. In the Orthodox Church, Mary is given the title "Theotokos" which is Greek for "Birth-giver-of-God." That phrase in itself is power packed. I was spiritually educated in Catholic schools, where I spoke the words "blessed art thou among women" enough times to continue believing in the holy power of Mary's blessedness. My early fascination with her has stuck. I am enraptured by the idea that Mary carried God incarnate inside her womb. I like to think that this supplied enough holy power to ignite a spiritual fire inside her. I painted "Mary on Fire" with the same wonderment I had as a child. She's not God but she birthed Him. How could she not glow from the inside out? I believe she was ablaze and that's why, and how, I paint her.  Title: Madonna On Fire, 2019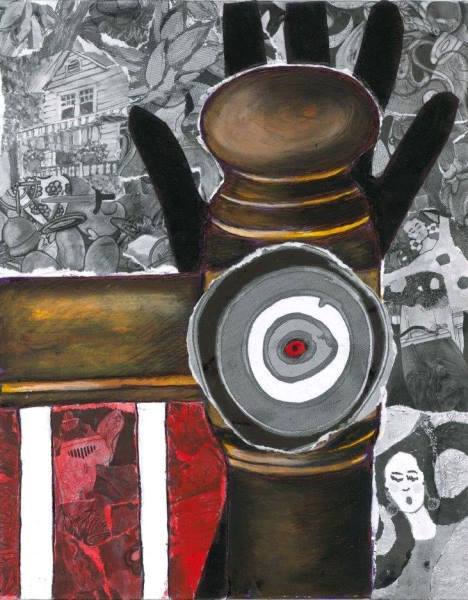 I'm revisiting this piece of art because my childhood home is up for sale. In a few months I can go back to 323 Buena Vista Road through art I've made, but never again will I be able to visit my birthplace as it once was. That's why, even though this exhibiting work is from the ECVA Archives, it speaks to me today. I made this piece of art 2 years ago thinking the house would sell. Here I am, 2 years later, again facing the same inevitability. However, this time Mom is gone and the house will sell no matter what. Again I grieve in this same way:
My childhood home goes on the market in 3 weeks. I have been preparing for this inevitability my entire life. The house I live in now is stuffed with paintings I have made about my wondrous birthplace. God spoke to me there: in big and little things. Something simple, like the way the wood of the banister felt beneath my fingers, can trigger a whole host of memories. The whole place is filled with triggers. I dreamed in this place, I was loved in this place and I became "me" in this place. Such a big chunk of my story began within these walls. On every single page of my story you will find God's hand. He has always been there. You can expect to find Him inside every single one of my paintings. He is always in my story.  Title: Banister, 2017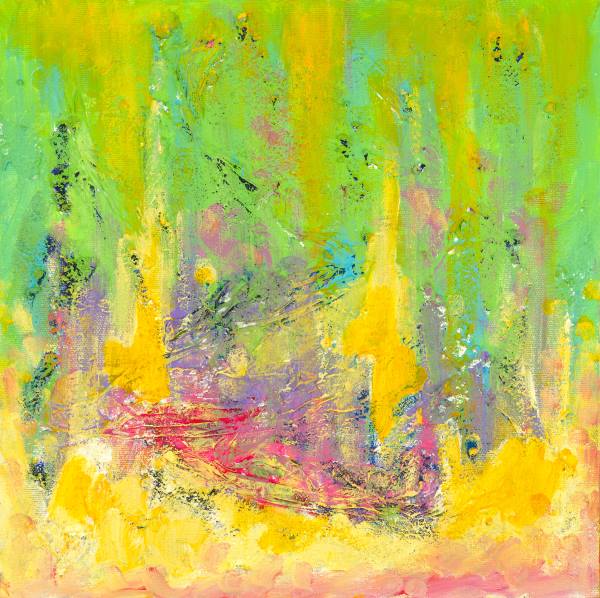 The beauty of mindfulness paintings are the rules. The rules say, "There Are No Rules!" You don't need to choose colors with apprehension. Any choices are excellent choices. Get lost in the fun of mixing and choosing. Pay attention to what you notice as you choose, mix and apply color. My "No Ugly Colors Painting" is all about the freedom to play with color. I disregarded any rules as I created. I just spent my time in the moment, so I could enjoy the experience. I stuck to my core belief about artmaking: it's all about the process not product.  Title: No Ugly Colors, 2016
All purchases include a signed copy of: Mindfulness Paintings.
If there is an asterisk (*) next to the work's title, it is featured inside Mindfulness Paintings.
Buyer pays shipping and insurance. Every effort is made to minimize shipping costs.
Contact [email protected] or 248-787-3100 for questions or for purchase information.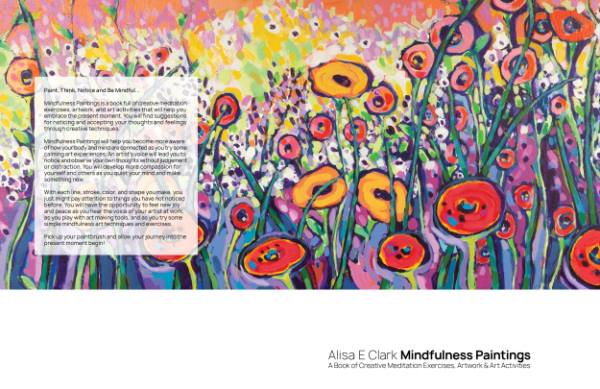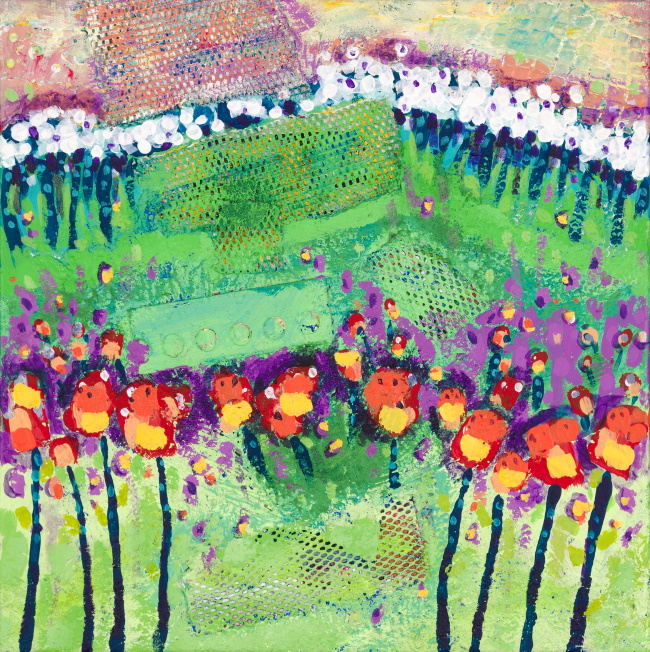 *Mindlessness, 2017
(16 in x 16 in x 1 6/16 in)
Gallery Wrapped Canvas:
No Framing Required
Mixed Media:
Acrylic, Collage Elements, Textured Mediums
$1900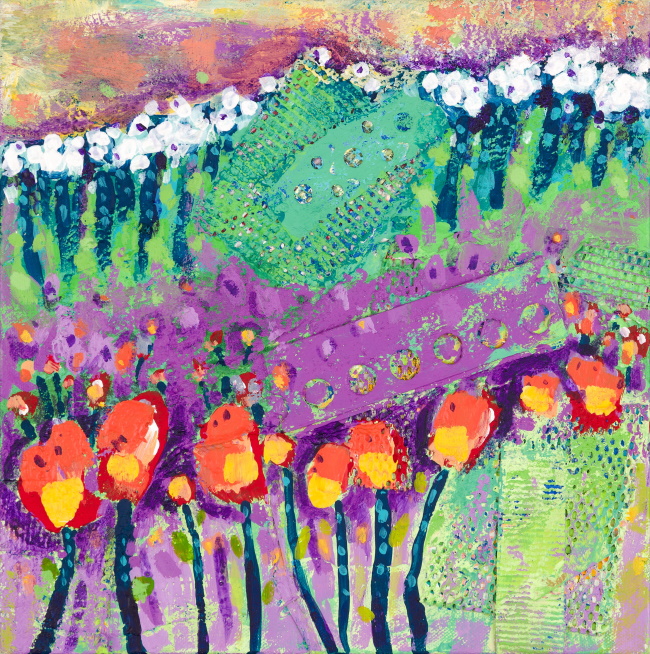 *Empty Mind, 2017
(12 in x 12 in x 1 1/2 in)
Gallery Wrapped Canvas:
No Framing Required

Mixed Media:

Acrylic, Collage Elements,Textured Mediums

$1400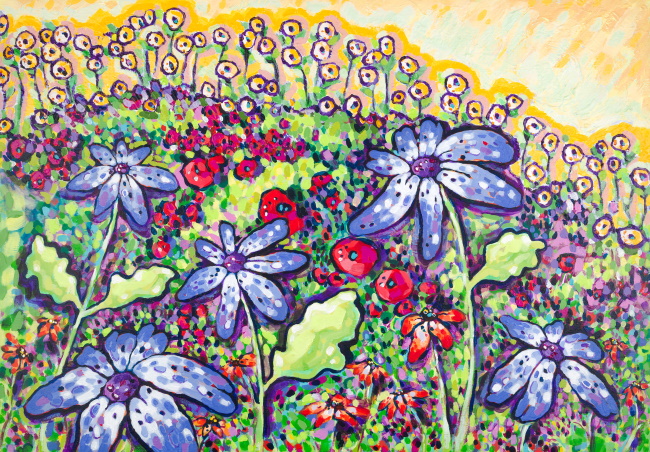 *My Choices, 2018
(28 in x 40 in x 1 1/2 in)
Gallery Wrapped Canvas: 
No Framing Required

Media: Acrylic

$3200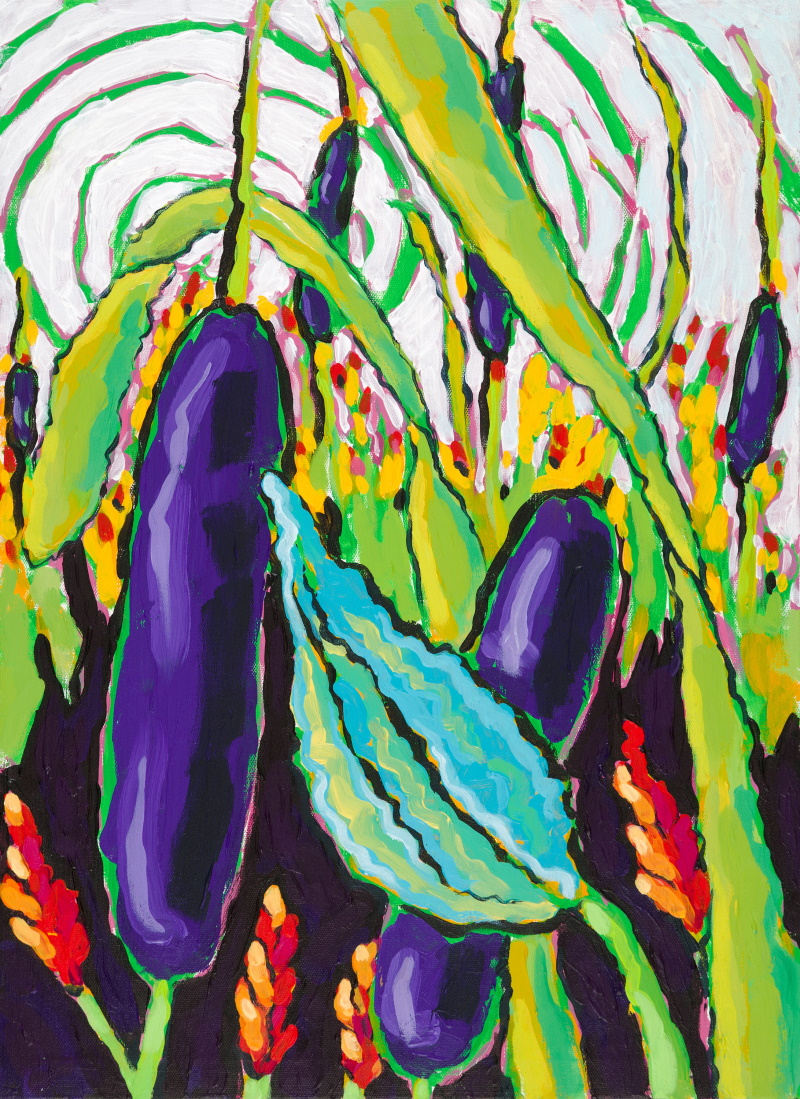 *Purple Pickle Painting
Created in 2018
14 7/16 in x 20 in x 2 in
Gallery Wrapped Canvas: 
No Framing Required
Mixed Media: Acrylic
$2900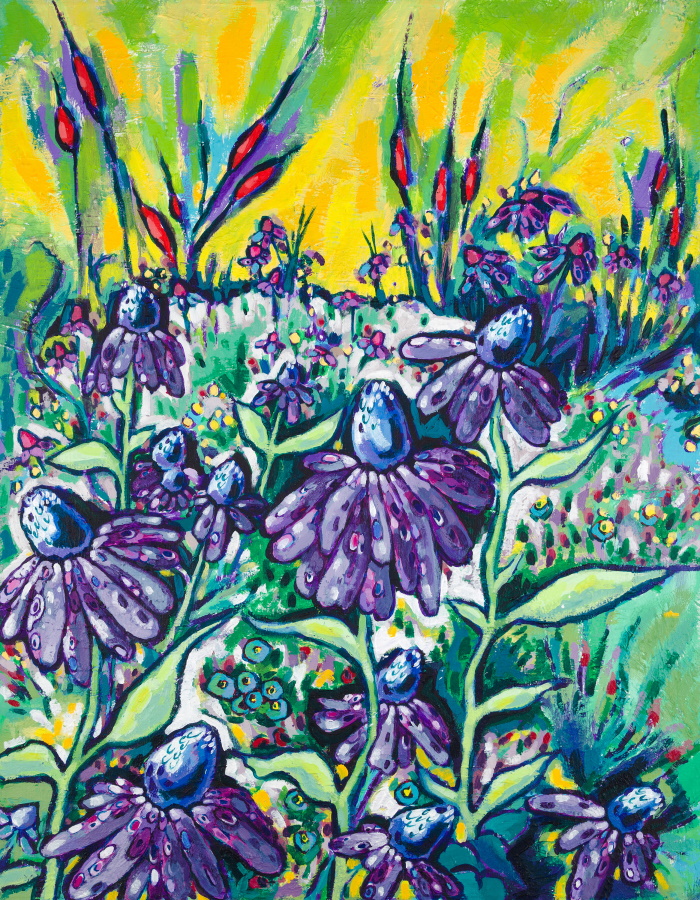 *Capture Things, 2018 
28in x 36 1/16in x 1 1/2in
Gallery Wrapped Canvas: 
No Framing Required
Mixed Media:
Acrylic, Collage Elements
$2900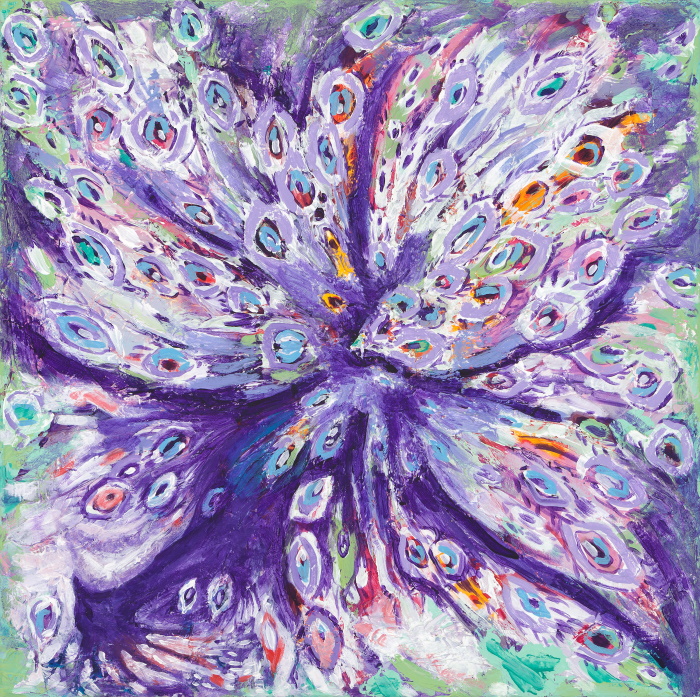 What Do You See?, 2018 
(27 1/2in x 27 1/2in
x 1 1/4 in)
Work Framed as Shown
Dimensions Include Frame
Mixed Media: Acrylic, 
Textured Mediums
$2200