Written by: mindfulnesspaintings
I have a million choices: choices that are all mine. Over the past week, I have been creating a bunch of paintings all at once, because I can. I flit from one painting to the other while adding a splash of color here, a shape there, and I do it with a rush of enthusiasm. I am compelled to do this vigorously and with little fear of messing anything up. Each choice surprises me. I just enjoy what happens. Intense colors pop and dark values recede. I am lost in a world of color, texture, and shape. Everything I do, I do for me. I have a million choices that are all mine.
I have a million choices that are all mine. I'm not finished with any of this yet. I get to decide when I am done. I get to decide if I like what I've made. It's up to me if I hang it on the wall or if I paint over it. Everything is for me. It's complete freedom.
I am floating in a world of wonderous and mesmerizing decisions. I notice what I feel, what I think, and why I choose what I choose for me. It's so peaceful here. If it were my choice, I'd stay here way, way too long.
I must go now. I must return to the world where choices are not always mine. I am ready. The process has given me the opportunity to regroup and recharge. Hello, world. I'm back.
Do you have a place where everything is yours? How can you create a space where you can make choices that are all for you? The creative process can offer you this kind of freedom and opportunity. I love to share my process, and I love how this blog offers others encouragement to explore and share their creative experiences. Together, we become more mindful and aware of the joy and peace the creative process yields, and we can thank the millions of choices that are all yours and all mine.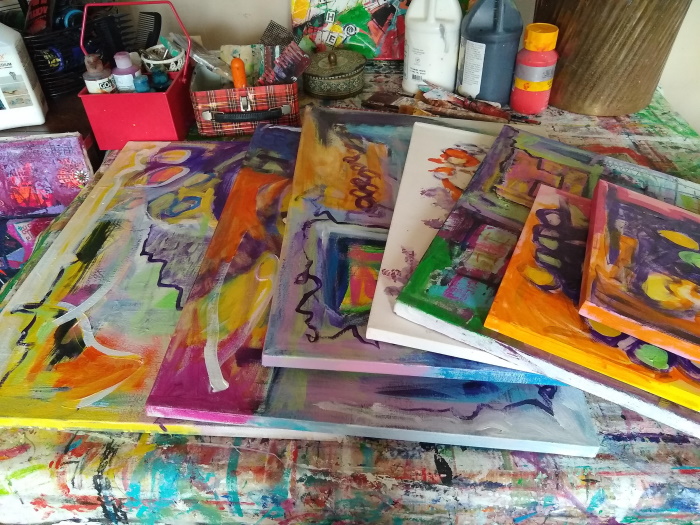 A Million Choices, 2020