Written by: mindfulnesspaintings
Making 3D sculptures with Powertex Textile Medium gives art makers new options in three-dimensional art making. Powertex is a versatile textile medium that can be used to create all sorts of art projects, including 3D sculptures. This product works so much better than paper mache: it dries faster, can be reworked with rewetting after dried, and adheres like glue when used at full thickness (You may need to add water to your textile medium for some projects, but the less water you use, the faster your sculpture will dry and adhere.). Here are some steps to help you get started with making 3D sculptures with Powertex Textile Medium:
Gather your materials. You will need a wire armature, a base or support for your sculpture, Powertex textile medium, fabrics and/or other textiles, and any embellishments you'd like to use.
Prepare your armature. If you are using a wire armature, bend and shape it into the desired form using pliers. Make sure the armature is secure and sturdy. (I like to wrap my wire in painter's tape to complete my form.)
Apply Powertex. Pour some Powertex into a container and dip your fabrics and textiles into it. Saturate them thoroughly and then drape them over the armature, pressing them firmly into place. Continue until your armature is completely covered.
Add texture. Use your hands or tools to create textures in your Powertex-covered fabrics. You can also add texture with other materials like sand, beads, or glitter.
Enhance your sculpture. Use additional Powertex to glue on any embellishments like flowers, shells, found objects, or beads. You can also add color by mixing powdered pigments into the Powertex or painting with acrylics once it has dried. (I like to add fluid acrylics and some water to a spray bottle. I shake well and then spray the color right on the the 3D piece.)
Let it dry. Allow your sculpture to dry for several hours or overnight. The Powertex will harden and create a sturdy base for your sculpture.
Add finishing touches. You can add additional embellishments, paint details, or seal your sculpture with varnish or wax. (Do your research. Not all varnishes and sealants are companions of Powertex, and they could ruin your piece.)
With Powertex textile medium, the possibilities are endless for creating unique and beautiful 3D sculptures. By experimenting with different fabrics, textures, and embellishments you can make amazing discoveries that would be missed using paper mache. You will also enjoy the present moment while you engage in the unfolding of your own creative process. I am mindful of my materials and the ways that they help me create a successful 3D piece. This blog is a place where I like to share what works for me and give people an opportunity to learn and ask questions. Watch the video, below, where you will see me "in the flow" and experimenting while making 3D sculptures with Powertex Textile Medium. I hope this video gives you inspiration and gets you started with this amazing new medium.
Click here to read about mindfulness art.
Click here to learn more about Mindfulness Paintings.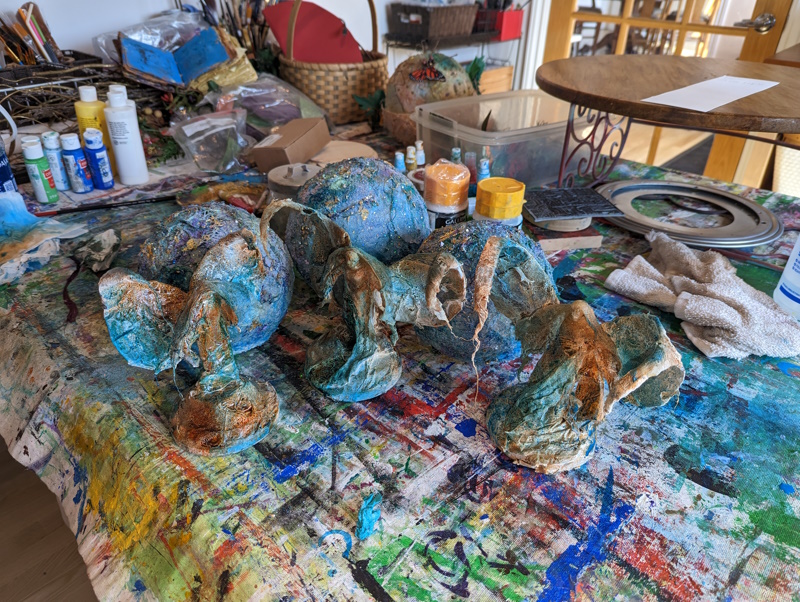 Being mindful of your materials and art making processes helps art makers create work while "fully present" in the moment. Consider these angel sculptures that are made with Powertex Textile Medium. The angels have been painted white and then covered with a sheen of blues, greens, and golds. This blog gives instructions and demonstrations for making all types of 3D sculptures with Powertex Textile Medium.