Written by: mindfulnesspaintings
I woke up most mornings this summer trying to hear God but mostly finding the sound of white noise. I just couldn't hear the voice that has always followed me around. All kinds of meaningless and unproductive thoughts filled my mind. I knew what I was hearing was not Him (or Her). Not much else was clear. The other day, I woke and prayed and heard (in stereo): "SEE THE BEAUTY." This theme has since unfolded in multiple ways throughout my days. Right now, this is what I am holding on to.  
I am now mindful of the beauty. I see the beauty wherever I can find it. I grab and paint the beautiful moments. In this painting, I see the beauty of the tomatoes in my father's garden. I see the beauty in the way they ripened on the windowsill. I see the beauty in how my dad and I would share a glass of wine and enjoy simple things like tomatoes. Dad had a way of delighting in simple things. No one spoke of mindfulness in my father's era, but he was the master of finding beauty in the simple, everyday unfoldings. Both my fathers are still teaching me to see the beauty. I am painting it whenever I get the chance, so I can learn the lesson. Can you see the simple beauty in this painting? Are you mindful of the moments when beauty is waiting to be seen? Join me. Consider capturing the elegant allure of something right in front of you, and give it voice through creative expression. Let creative mindfulness help you SEE THE BEAUTY!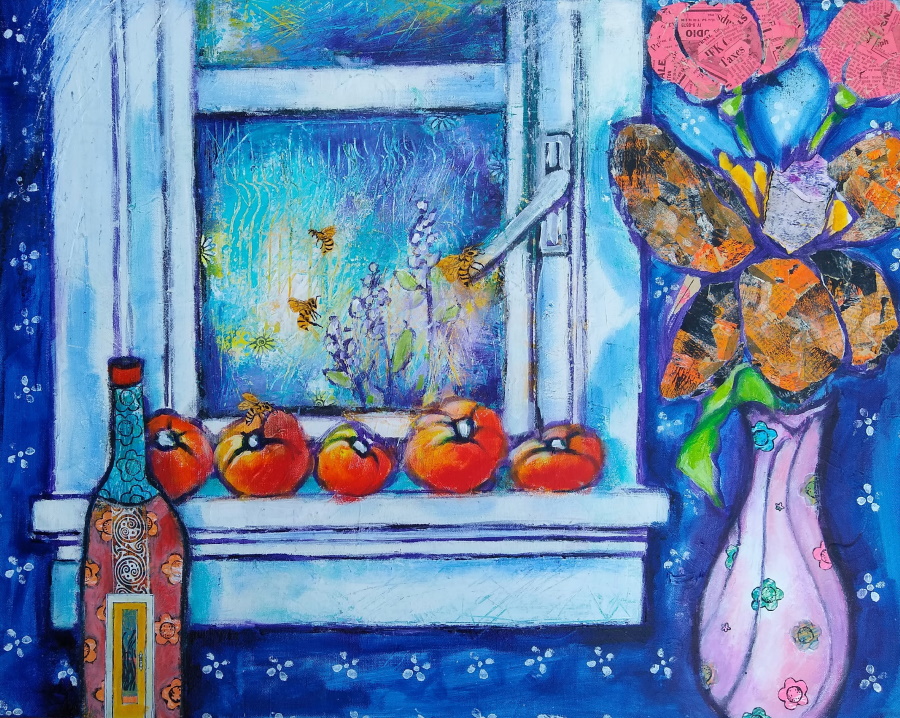 This artist paints as a reminder to be mindful of the simple, beautiful things surrounding her. She paints to encourage others to be mindful of the beauty.