Written by: mindfulnesspaintings
The Unlocking of My Mind is about everything the world around me now says is "wrong" but is ironically "right." I spent most of my life believing that "right" things were "wrong." I had an entire book, theology, church members, and mindset telling me that I had it "right," and I needed to help others see my truth. The woman you see in "The Unlocking of My Mind" is me, and the lock symbolizes the unlocking of my mind: the new ability to see outside the box and comprehend the "truth" of others who live and believe differently from me. The lock also represents the oppression of others. We lock people up for the "wrong" reasons. We say, "Certain lives don't matter. To be 'right,' these lives must be lived and perceived differently." We push people down for asserting their rights. We deny their truth to affirm ours. We go as far as to claim that we know the truth about how other people should live to get it "right." There's a little more symbolism in this artwork. I am of Greek origin. A hand-made wreath of tree leaves, twigs, fruits, and flowers is customary for Greek women, and I wear that wreath in this painting. My parents wore a wreath at their wedding. When I married, I wore my parent's wreath. "Wreath" means "a thing bound around." It can represent a restriction or "a place with certain limits." I ask the question, "In what ways was I raised and taught to see restrictions and limits on myself and others?" With my culture comes attitudes, beliefs, benefits, and even some level of oppression in places where I did not fit in. I recently admitted to myself that I'm an outlier for my beliefs within my (now) "ex-church." This happened after 18 years trying to fit my "square peg self" into a round hole. I spent 13 years as a Greek Orthodox girl in a Catholic school. You'd think the slight differences wouldn't matter, but certain people made sure I felt them. One day, I learned that I was a "Shiksa" for crushing on a Jewish boy. A group of high school boys placed bets on the chance that I would lose my virginity on our first date: grossly disturbing, demoralizing, and the result of being a "Non-Jew" in this circumstance. I'm not saying that I have experienced the same level of oppression that many others have. I have lived a life of mostly privilege, so I fear even drawing a faint parallel between myself and those who have been truly oppressed. However, there have been moments in my life when it's been clear that I was lesser- just enough of a taste of oppression for my eyes to finally open. These moments have followed me for a lifetime and have fueled me in creating the painting (below) called "The Unlocking of My Mind."
I believe it is important to be mindful of the "tastes" of oppression around us. We can keep our minds closed and look the other way. We can occupy ourselves with other matters and turn our gaze from the matter at hand. We can walk the earth with our eyes wide open without having to change the whole world. We can notice things and make ourselves aware of their impact without feeling like is all our responsibility. I think we turn away when we think it's all too much for just ourselves. If we all just did our part by speaking truth into the happenings on our daily walk, the world could be changed. Unlock your mind and see the world around you with new eyes and fresh thinking. Speak truth where it is needed. Make your neighbor a little more free. Have peace in knowing you did your part.
Click here to read about mindfulness art.
Click here to learn more about Mindfulness Paintings.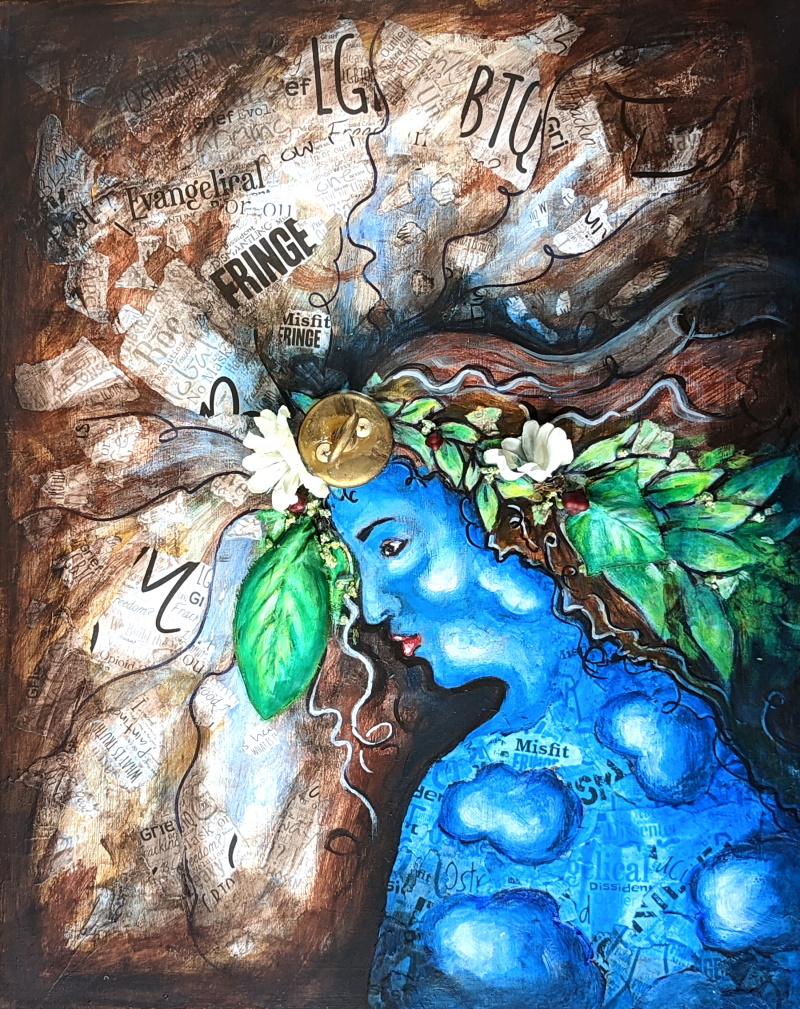 The woman you see in "The Unlocking of My Mind" is me, and the lock symbolizes the unlocking of my mind: the new ability to see outside the box and comprehend the "truth" of others who live and believe differently from me. The lock also represents the oppression of others. There's a little more symbolism in this artwork. I am of Greek origin. A hand-made wreath of tree leaves, twigs, fruits, and flowers is customary for Greek women, and I wear that wreath in this painting. "Wreath" means "a thing bound around." It can represent a restriction or "a place with certain limits." I ask the question, "In what ways was I raised and taught to see restrictions and limits on others and myself?" "The Unlocking of My Mind" is all about this question.