Written by: mindfulnesspaintings
Conversations about art help define our experience in the present moment. This is especially true during a pandemic. Covid was the quintessential liminal experience. There was no moving forward or backward, and the present moment was bathed in uncertainty. I am aware of the ways I was stuck waiting anxiously for "What's Next" and unable to experience life as it had been. To some degree, I am mindful of the ways I am still stuck. Art making allows me to go somewhere despite the restraints. It allows me to be untethered. An adventure can be taken with my paintbrush and a canvas regardless of what's happening around me. My art is made while sitting in the liminal "In-Between." My canvas is the space where I can always find freedom in any liminal moment.
We now find ourselves waiting in a new unknown. There are wars and rumors of more wars. A new variant looms in the distance. I once again recoil to my studio and manage my anxieties in this new liminal in-between. I paint sunflowers, doors to magical places, and portals to peaceful, quiet spaces. I share this work, and I invite people to share in my process. It becomes a salve for them and for me. I have made friends with people I have never physically met. I have bonded with them. We have shared our stories. Art is the impetus for all this dialogue. I have reimagined my entire sense of community through creative exchange. To my surprise, much of this is done virtually. Despite distance, dividedness, and disconnectedness, creative process joins me with others in the present moment. In the disquieting of our new, liminal moments, conversations about art release hope and lets us find common ground.
When I make art, it is a continuation of this conversation. People are asking questions. Why did you paint a door? Why do fish swim among the sunflowers? What exactly is that and why did you do it that way? These are all oddities that have started an exchange about our experiences in the "Right Now." How I paint my experience of time and space draws people in. It makes them wonder and prompts them to ask questions. Sharing this work is an opportunity to develop intimacy, close the distance between us, build connection, and bring comfort in these times of isolation and uncertainty. A little off, slightly strange, and unexpected choices on my canvas drive dialogue. I don't paint it like others do. People want to know why. I am mindful of how this makes space for conversations about art. It's the ultimate in inclusivity. No question is wrong. Anyone can ask why. In the present moment, I create with the hope that questions will be asked. I am passionate about sharing the answers. If you have a story to share with me, that's even more exciting. For me, it's not just about the art. It's about the exchange. That's why I share with you today.
Click here to read about mindfulness art.
Click here to learn more about Mindfulness Paintings.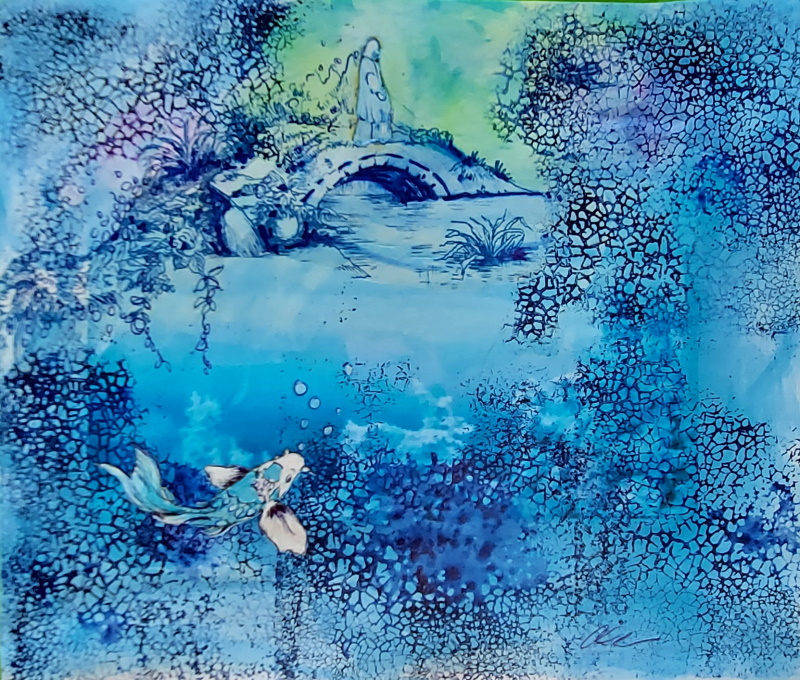 Unexpected choices on my canvas start conversations about art. "Who is walking across that bridge?" Where is he going?" "Why is he going there?" I am mindful of how these questions make space for conversations about art.