Written by: mindfulnesspaintings
In 2020, we were all anxious for the day when we would find ourselves in a better place. In 2021, we have the same anxieties. Yes, it's true. There is a vaccine on its way. Hope is on the horizon. Yet, we still need to get through the coming months. It's cold, the days are darker, and many of our favorite places are shut down. We can't go anywhere with our loved ones: not even into their homes. How can we go to a better place in 2021? This blog aims to help you find that "better place" without even needing to step foot outside the door.
You might be thinking that the last thing you need is one more thing to do at home. COVID has left us stuck in our homes for far too long. We'd need magic to give us an "at home activity" that is rewarding, refreshing, and puts us in a better place! My personal opinion is that creativity comes with a bit of magic. Creative expression can take us to a better place without ever having to physically move. With the stroke of a brush, or the swipe of a pencil, the magic of escaping to a better place is possible.
When I create, I do escape. I do go to a better place. Reality is still with me. I notice that the present moment has its challenges. I am mindful of the reality that there are restrictions that are challenging. At the same time, I slip away into a world where color, shape, and line are mesmerizing. I'm in a better place where I can share meaning, make connections, and gently process the truth of the present moment. I am someplace else in my mind and that feels true for me physically, as well. When I return to the time at hand, reality is more palpable, but it is also more palatable. I take a trip far away that brings me home refreshed and ready to face the next moment with more ease.
You can go to a better place by exploring creative process. Paint, sculpt, or take photographs. Color, scrapbook, or knit. Pick your creative passion. The possibilities are endless. Any activity that offers you creative choices also offers you the chance to find your "better place." If you become mindful and see the benefits of this "better place," take the step to share: here or anywhere. Encourage others to create, so they can find their better place alongside you.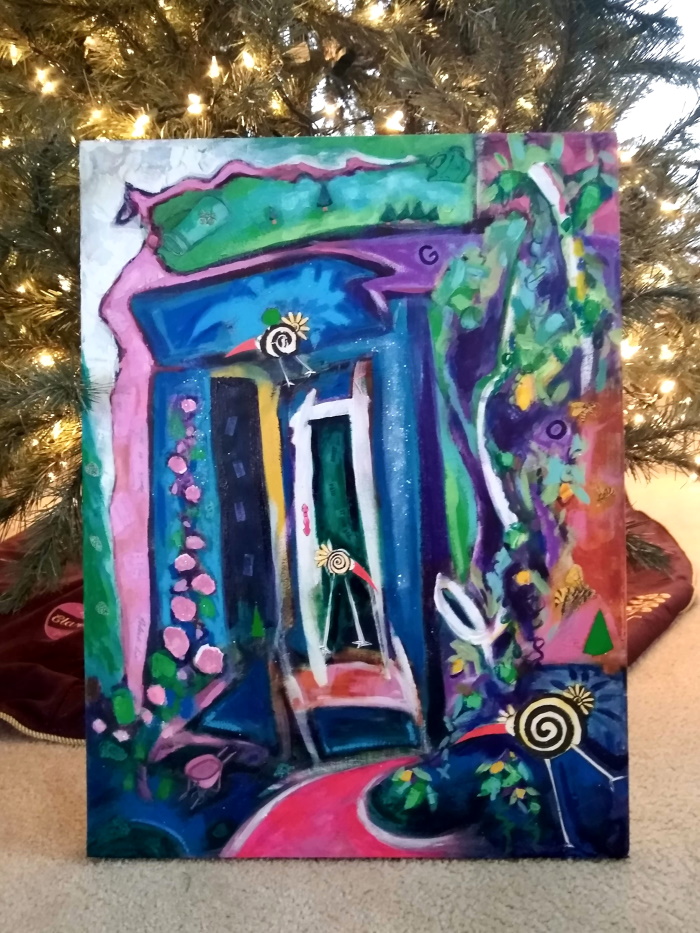 Better Place, 2021